FAQs
Frequently Asked Questions
What is LightJar?
LightJar is a media storage service for saving, organizing, and sharing your media files. We use the AWS Cloud to store the subscribers' content and the contents' metadata & descriptions. There is no application software to install on your computer or smartphone. LightJar is a web application that relies upon your device's modern browser in order to work with the LightJar servers that are resident in the AWS Cloud. You can record and upload a video from your iPhone or tablet when away from home, and then view it on your home's laptop later in the day. Or, you can upload videos or photos from your home library and then play or show them to friends while out on the town. LightJar was made to handle large, long video files.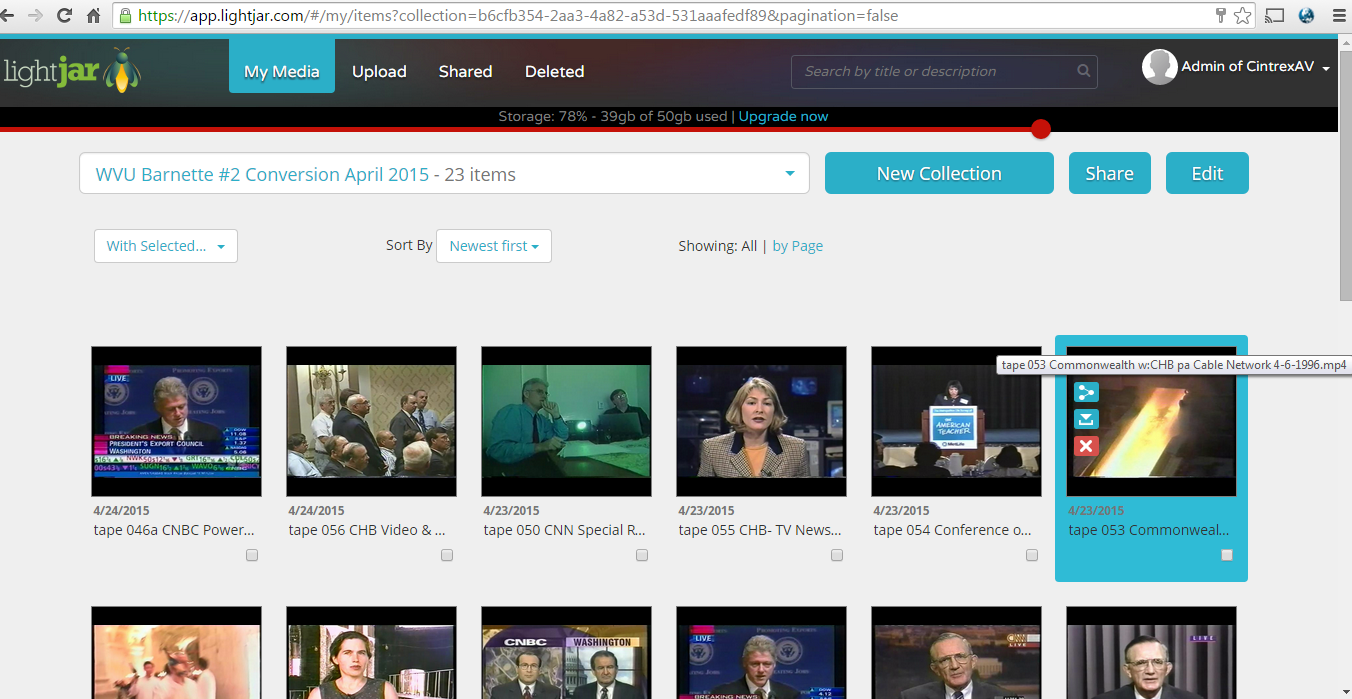 A video introduction to LightJar is here.
How safe and secure are my videos and photos in LightJar?
LightJar is not a public site such as YouTube. Access to your content requires your email address along with a password. Visitors to LightJar or other LightJar subscribers are not able to see or view your content unless you specifically share your content with them. Subscriber content and personal information are encrypted during upload, download, and while in storage. Even LightJar administrators do not have access to your content. The AWS Cloud is rated at eleven (11) 9's durability, with your content backed up in redundant fashion across multiple data centers.
Why the different type subscription plans?
We offer different type subscription plans based upon how often you need to access your stored content. Active plans have all content available 24/7 for play, download or sharing. Archive plans place content in highly redundant, deep storage; and restoring content can take up to 24 hours before it is available for download or sharing. Our managed plans are a combination of the previous plans – active content is always available (such as your child's recent birthday party), while content that has not been touched in a while is placed in archived storage. In terms of pricing, Active plans are priced the highest, Archived plans are the priced the smallest, and Managed plans are in the middle. Active plans are available in monthly or annual billing arrangements, while Managed and Archived plans are annual subscriptions plans only.

With all plans, you are able to view thumbnail representations of each media recording (video, photo, or audio), organize them into different collections, and edit their associated metadata & descriptions, even for those media assets in an archived state.
Which LightJar plan is best for my family?
Our 50GB Managed plan can store up to 25,000 photos or up to 30 hours of video. Its subscription rate is $40 per year. If you need more space, you can upgrade to the 100GB Managed plan for an extra $30 per year, or $70 total, and save twice as much media.
Is LightJar a Backup Service?
No, LightJar does not automatically backup your data from your laptop or smartphone. At this time, LightJar requires the subscriber to manually select which items to upload and place in cloud storage.
Is there a free trial?
Yes, our entry 10GB Active plan is $2/month. We do not charge your credit card on file until the end of the first 30 days. Cancel before then if you do not want to subscribe to the service.
Is there any training for new users?
Yes. We have a LightJar Support Center (located in the footer) that includes a video screencast on how to use LightJar, a detailed User's Guide that can be printed off or downloaded, and informative how-to tips.
Once I sign up for LightJar, how easy is it to cancel my subscription?
You can cancel anytime via the Manage Subscription link. When you cancel your LightJar account, we keep your existing stored media recordings in your LightJar account until the end of the current billing cycle, or up to a total of 90 days for annual subscriptions. If you wish, you have the ability to delete permanently, at the time of your cancellation, all stored media recordings in your LightJar account.
Should LightJar be the ONLY place that I store my valuable media recordings?
Subscribers should NOT rely SOLELY on LightJar for long term preservation of their valuable media recordings. Rather LightJar should be one component in a comprehensive multiple tiered approach. The typical minimum recommendation for saving media recordings for the long term is to save 3 copies of the digital content, in 2 different formats (disc, data file, on flash-drive, on hard-drive, etc.), with at least 1 copy stored offsite (Iron Mountain, Safe Deposit Box, LightJar, etc.)
Who do I call or write if I have problems using LightJar or I am unable to reach my content?
Send us a message via the Chat line or the Help feature, and we will investigate the problem. Subscriber content is hosted in AWS S3 and Glacier, and our LightJar software servers are also hosted in the AWS cloud. Uptime for AWS is greater than 99.5%, and we expect our LightJar software to demonstrate similar uptime characteristics.